Laboratory Managers Can Improve Internal Sustainability by Recycling Gloves, Pipet Tips, Tubes, Glassware, Film Packaging and More...
Problem: Laboratories and research organizations generate millions of nonhazardous lab disposables per year. Scientists corresponding to international science journal Nature have estimated that lab plastics waste accounted for 5.5 million tons in 2014, roughly the combined tonnage of 67 cruise liners—and this estimate only speaks to one of the many types of waste created by labs.
The quantity and variety of waste generated depends on the type of lab, as the lab and research industry can be broadly defined to include hospitals, universities, pharmaceutical corporations and regulatory agencies. Every lab is different and creates a mix of natural and synthetic materials, which may include glass, plastic, hybrid material lab garments and nitrile and rubber gloves.
Laboratory disposables have been fated to linear disposal methods like landfilling and incineration because there is no comprehensive recycling solution for them in the current waste management infrastructure. The economics of recycling creates little incentive to employ alternative recycling solutions for discarded lab disposables, as the cost of collection, separation and processing for these mixed items is far greater than what the materials are worth.
Thus, many labs do not offer well-managed systems for waste disposal, doing nothing for their internal sustainability numbers. However, labs have the ability to employ customizable, regenerative waste solutions for their lab disposables.
Solution: Considering the reasons why waste is difficult to manage in labs and research facilities is the first step in finding solutions.
As mentioned, the current recycling infrastructure does not support alternative recycling solutions for items like lab disposables because the process is too expensive. A private lab or research facility does not stand to gain any sort of monetary return on footing the potentially high cost of specialized recycling services, and must be presented with additional incentives to bring a perspective of value to recycling opportunities.
Many lab employees may also believe that all laboratory waste is unrecyclable, which is not the case. Lab managers can facilitate staff training and sustainability courses for employees and building personnel to build morale around green awareness and improvements in lab processes, such as the integration of new in-house recycling solutions.
One regenerative waste solution to consider when evaluating and setting internal sustainability goals in the laboratory is the Zero Waste Box, a premium recycling option from TerraCycle, an international recycling company.
Major distributors and suppliers of laboratory equipment and accessories such as Krackeler Scientific, VWR and Thomas Scientific have partnered up with TerraCycle to offer Zero Waste Boxes through their website, allowing labs and other research facilities easy access to a turnkey waste solution for more than one type of lab disposable.
Excluding food waste, sharps, hazardous materials and other federally regulated items, the Zero Waste Box platform offers a solution for nearly every type of waste, without the need for corporate or municipal sponsorship. This innovative waste solution can be used by labs in conjunction with a lab's own zero-waste strategies and participation in curbside collection programs, or as a primary waste solution.
Separating waste is the key to making everything recyclable. For example, nitrile and latex gloves are comprised of different materials. Category specific Zero Waste Boxes for each type of waste streams keeps them separate at the capture phase, creating no need to work in the cost of that separation process. Labs and research facilities that use both types of gloves can either buy two types of Zero Waste Box for the respective items, or go a size up to include both for increased convenience.
Labs can also increase internal sustainability by using Zero Waste boxes to recycling other traditionally unrecyclable items. Waste created by building management (batteries, air fresheners, cleaning wipe packaging, trigger heads from cleaning spray bottles), researchers and scientists (binders and presentation materials, books and magazines), and every person that walks through the door (coffee pods, chip bags, food storage containers) can be solved through TerraCycle's Zero Waste Box platform.
Tom Szaky is the founder and CEO of TerraCycle, an international recycling company and supplier of Zero Waste Boxes, a premium, turnkey solution for difficult-to-recycle laboratory disposables, office materials and more. For more information about the Zero Waste Box recycling platform, please contact your distributor or visit www.terracycle.com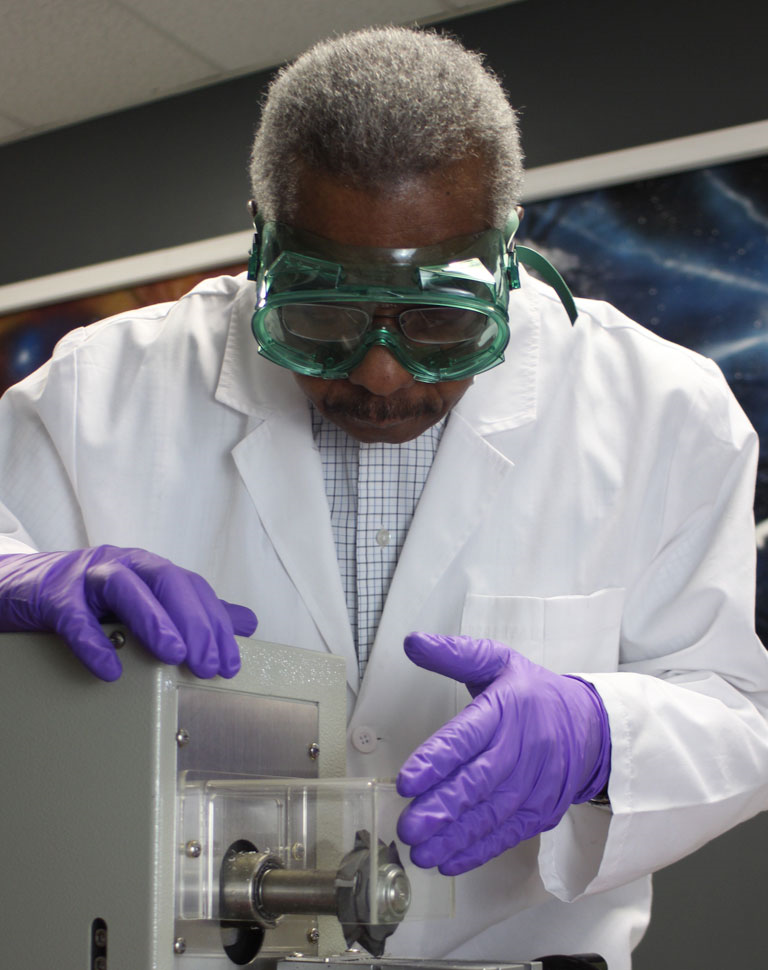 Terracyle™ has the tenacity to recycle your "difficult to recycle" lab consumables.
Here their head scientist, Ernel Simpon, loads a barrel extruder in the Terracycle lab. #labconscious #greenlabtips